A 26-second video said so much.
Notre Dame senior safety Houston Griffith and junior running back Kyren Williams, by Griffith's own account, are "like brothers." That's the impression they gave off in a short Twitter video released by Notre Dame's official football account earlier this week, too.
Griffith and Williams were first side-by-side in the back seats of a car on their way to Soldier Field in Chicago. Then they were on the field together doing some sort of secret handshake before lining up across from each other. Griffith appeared ready to play defense on Williams running a route.
Watch our videos and subscribe to our YouTube channel!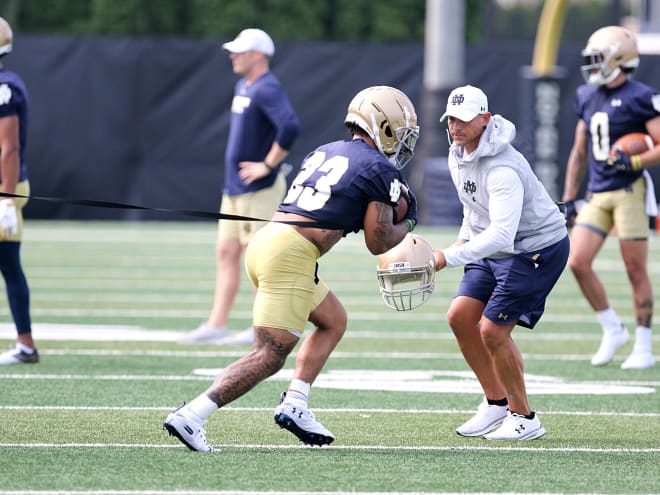 Williams pulled up after a few steps and said, "Wait, wait, wait. We aren't dressed for all this right now." He put his hand over the camera lens. A Shamrock Series logo popped up and alerted viewers the uniform Notre Dame will wear against Wisconsin on Sept. 25 will be unveiled the following day.
The duo's chemistry was contagious, but Griffith warned not to be fooled by it. Yes, he and Williams are best of friends. But they're also the worst of enemies when their helmets are on and they're lined up across from each other for real — not for social media hits.
"It's a choice you have to have when you wake up in the morning," Griffith said. "You're going to go out there and be a bad 'MF.' That's what it is. It's competitive. When we get out there on these fields between those white lines, there are no friends. It's competitive. It's offense versus defense. You've got to go mano a mano the whole practice or for four quarters."
Griffith calls it a collective "dominant mindset" shared by both sides of the ball.
"We're going to outwork you, and we're better than you," Griffith said. "That's what it is."
Griffith said Williams and graduate senior quarterback Jack Coan have done as well a job as any offensive players in exhibiting that mentality in the early stages of fall camp.
"I think Jack has done a phenomenal job since he came in," Griffith said. "Coming from Wisconsin and coming here, it's two different cultures. But he has started to really buy into the culture and buy into the team. He has done a great job. I just continue to like competing with Jack."
Competition might as well be Griffith's middle name. You'd need both hands to count how many times the word came out of his mouth during an eight-minute section of his interviews after Tuesday's practice.
Competition with the other safeties in his position group. Competition with himself. And, naturally, competition with the likes of Coan, Williams and the other players on Notre Dame's offense. Griffith craves it all. And to his liking, his adversaries in blue and gold are the same way.
"It's fun going out there because we might go talk stuff to them, but they're going to talk it back too," Griffith said. I love it. I love what the offense has going on right now."
—-
• Talk about it inside The Lou Somogyi Board.
• Learn more about our print and digital publication, Blue & Gold Illustrated.
• Watch our videos and subscribe to our YouTube channel.
• Sign up for Blue & Gold's news alerts and daily newsletter.
• Subscribe to our podcast on Apple Podcasts.
• Follow us on Twitter: @BGINews, @Rivals_Singer, @PatrickEngel_, @tbhorka and @ToddBurlage.
• Like us on Facebook.