It was a big draft night for Michigan basketball — again — with Franz Wagner going eighth overall to the Orlando Magic and Isaiah Livers going No. 42 (second round) to the Detroit Pistons. The good news continued when the Los Angeles Lakers signed undrafted free agent Chaundee Brown to a 10-day contract, giving him an opportunity he was seeking.
"Michigan wing Chaundee Brown will sign an exhibit-10 contract with the Los Angeles Lakers, a source told ESPN," Jonathan Givony reported. "[He] was the No. 60 ranked prospect on the ESPN 100. Great pickup for the Lakers."
"Let's work … this is all I needed," Brown said in a tweet following the signing.
RELATED: Michigan's Franz Wagner Drafted No. 8 Overall In NBA Draft By Orlando Magic
WAGNER ELATED TO GO TO ORLANDO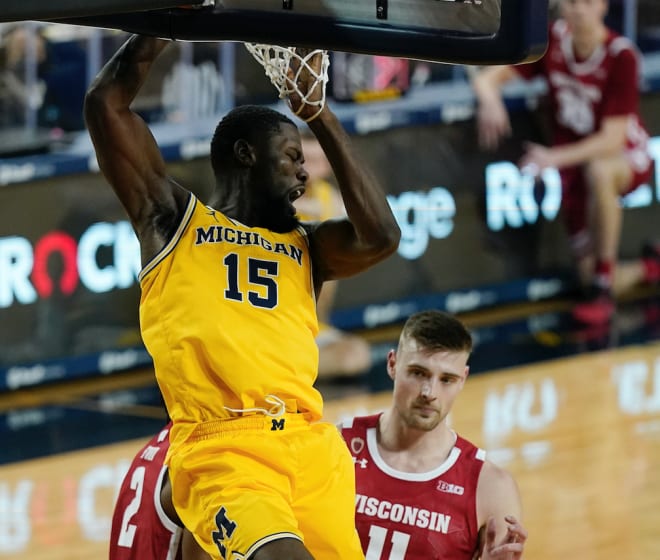 Brown averaged 8.0 points and came up big in the NCAA Tournament, making seven of his 12 triples in four games and shooting 49 percent, 42 percent from three-point range for the season, and adding 3.1 rebounds. He was a willing defender and an outstanding teammate.


"Brown is a chiseled 6'6 wing who shot 42 percent for three this past season and is a multi-positional defender,'" Givony added. "He will be one of the best wing prospects in the G-League next season and a strong call-up candidate for all 30 teams."
Guard Mike Smith, meanwhile, has received a summer invite from the Milwaukee Bucks. He averaged 9.0 points and 5.3 assists per game at 5-10, shooting a career-best 42.8 percent from long range.