It's no secret that Nebraska has struggled with special teams and putting a solid product on the field during Scott Frost's reign.
During spring practice, players and assistant coaches expressed a heavyweight on the importance of special teams and that mentality is carrying through into fall practice.
"Special teams is going to be a huge emphasis for us," Frost said during the fall practice kickoff press conference on Thursday. "It has been in the past but I want the kids to understand it."
Frost also said he believes he has the manpower and talent on the roster to turn the corner past the special team's struggles.
"Obviously having the talent to cover kicks and do those types of things is a big part of it too and we're getting more talent and have more depth," he said. "So we should be able to cover kicks better."
Nebraska placekicker and 2020 Big Ten Kicker of the Year, Connor Culp, is returning for another season and has brought consistency and skill to a position that struggled with both in previous seasons.
JUCO transfer Josh Jasek will add more depth to the placekicker position this fall. At Iowa Western, Jasek made 11-of-17 field goals including a season-long 56-yarder. He completed 41 of his 44 extra-point attempts.
With Culp and the young talent behind him in Jasek and second-year freshman Tyler Crawford, placekicking will continue to be the best aspect of Nebraska's special teams.
As for punting, William Przystup is entering his third year at Nebraska and was the Huskers starting punter for most of the season in 2020. Przystup averaged 42 yards per punt in six games last season.
Daniel Cerni was in line to compete for the starting punter job until he suffered a season-ending injury. Cerni is from Australia and hadn't played American football before coming to Nebraska in 2020.
With Cerni injured, Crawford punted during Nebraska's final two games and averaged 39.1 average yards on seven punts.
Kickoffs have been arguably the worst facet of NU's special teams phase.
Last season against Rutgers and Aron Cruickshank, the 2020 Return Specialist of the Year, Nebraska kicked right to Cruickshank despite their game plan. Cruickshank returned it for a 98-yard touchdown. In 2019 when Cruickshank was at Wisconsin, the same scene played out in an 89-yard touchdown.
"Kickoff has been kind of a thorn in our side," Frost said. "There's no kick returns if you kick it through the endzone."
Enter freshman walk-on Kelen Meyer from Ord High School and Brendan Franke, a Morningside transfer from Gretna.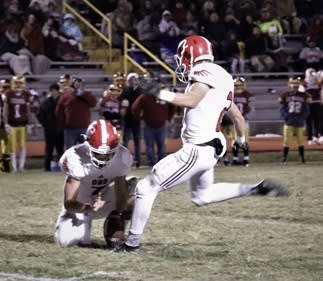 Meyer has one of the strongest legs in the history of Nebraska high school football. He kicked a 58-yard field goal during his senior season and tied for the second-longest field goal in state history.
Meyer previously told HuskerOnline that during his final season at Ord, three of his kickoffs were returnable. Nebraska can definitely use a leg as strong and consistent as Meyer's.
However, Meyer has some strong competition with Franke who had 34 touchbacks on his 59 kickoffs at Morningside. Franke didn't play football at Gretna but was the starting goal for the men's soccer team.
With Franke and Meyer, Nebraska's kickoff situation is looking much more promising.
"A couple of the guys we brought in, I think, have the talent to be able to make us a lot better on those units," Frost said.