As we approach the start of Fall Camp for Nebraska, we take an inside look at each position group for the Huskers.
Today we take a look at the linebackers, which feature a combination of established veterans and some relative newcomers ready to make an impact.
Related: QB | RB | WR | TE | OL | DL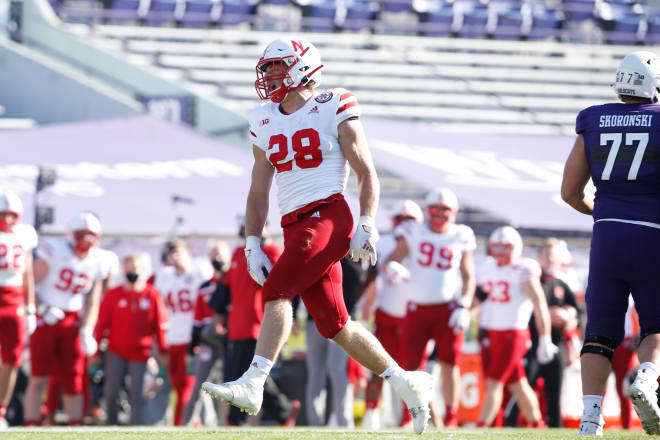 What we know right now: LB depth is the strongest yet under Frost
Linebacker depth has hardly been a strength since head coach Scott Frost and his staff took over in 2018.
Bot now, for the first time in years, Nebraska looks to be loaded with talent and experience at all four LB spots. That's even the case after potentially losing its most veteran 'backer for the season in Will Honas.
With Honas out for the foreseeable future, Northern Iowa transfer Chris Kolarevic and sophomore Luke Reimer appear to have locked up the starting two inside linebacker jobs. Both have been said to have NFL potential by position coach Barrett Ruud.
Behind them, redshirt freshmen Nick Henrich and Garrett Snodgrass have a lock on the second group, while Eva Mauga-Clements and Jackson Hannah took third-team reps, but walk-ons like Zach Schlager and Chris Cassidy also got solid reps as well.
Two early enrollees got plenty of snaps this spring in Seth Malcom and Randolph Kpai, and two other incoming freshmen will join the mix this fall in Mikai Gbayor and Wynden Ho'ohuli.
On the outside, NU brings back everyone from last season, and the conversation this spring was about which players would emerge from a deep pool of now mostly proven options.
Domann is the marquee name on the list after leading the team in tackles (58), tackles for loss (6.5), forced fumbles (2), and pass breakups (5) last year and posting some ridiculous numbers during winter strength and conditioning.
But guys like Garrett Nelson (4.0 TFL), Caleb Tannor (2.0 sacks), and Pheldarius Payne (2.0 TFL, 1.0 sack) also return to NU a solid two-deep. There's also Damian Jackson, who earned a scholarship last season and is one of the top leaders on the team.
There's also excitement over the potential of younger players like Isaac Gifford, Javin Wright, and Blaise Gunnerson.
Key stats and numbers from 2020
2020 total returning snaps
*May miss 2021 season due to injury
Key returning 2020 numbers
*May miss 2021 season due to injury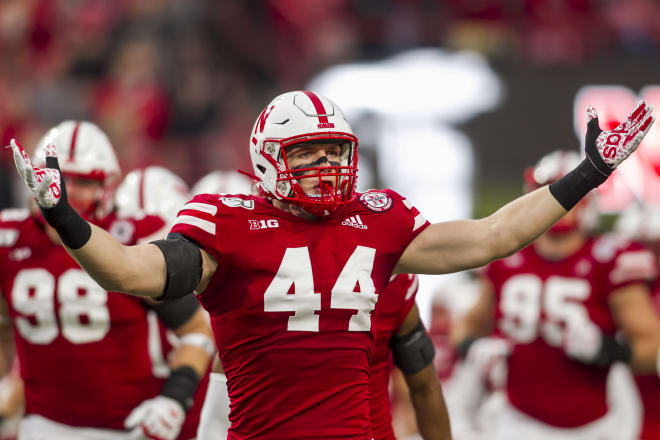 Biggest question: Can NU have an elite edge rush?
It seems like a decade ago that Randy Gregory was wreaking havoc in opponents' backfields off the edge for Nebraska.
Since Gregory moved on in 2015, the Huskers have desperately searched for someone else to step up and provide that same consistent pass rush. But, unfortunately, they haven't come close to finding one.
Only Khalil Davis (eight in 2019) has posted more than 5.5 sacks in a season since Gregory left. Gregory had 17.5 sacks in his two seasons as a Husker alone, including 10.5 in 2013.
Is there a player capable of breaking that trend this season?
Domann and Tannor would seem to be the top candidates, but neither has done much to back that up. Domann didn't record a single sack last season, while Tannor has 5.5 sacks over the past three years.
But what NU might lack in individual star power at edge rusher, it could make up for with a collective effort at the position. Tannor, Nelson, and Payne combined for 4.5 sacks in 2020, and Domann did have 2.5 sacks and 9.0 TFL in 2019.
All that matters is that Nebraska finds a way to get to the quarterback and disrupt opposing passing games with steady pressure. Can the Huskers accomplish that by committee? Or will someone finally step up and come close to Gregory's impact?
Projected Fall Camp LB Depth Chart
OLB
1. JoJo Domann, Sr
2. Javin Wright, RFr.
-OR-
Isaac Gifford, Fr.
ILB
1. Luke Reimer, So.
2. Nick Henrich, RFr.
ILB
1. Chris Kolarevic, Jr.
2. Garret Snodgrass, RFr.
OLB
1. Caleb Tannor, Jr
-OR-
Garrett Nelson, So.
-OR-
Pheldarius Payne, Jr.
Other notables to watch: Will Honas, Sr. (Injured); Damian Jackson, Jr.; Eteva Mauga-Clements, Jr.; Simon Otte, So.; Jackson Hannah, RFr.; Blaise Gunnerson, Fr.; Randolph Kpai, Fr.; Mikai Gbayor, Fr.; Wynden Ho'ohuli, Fr.; Seth Malcom, Fr.