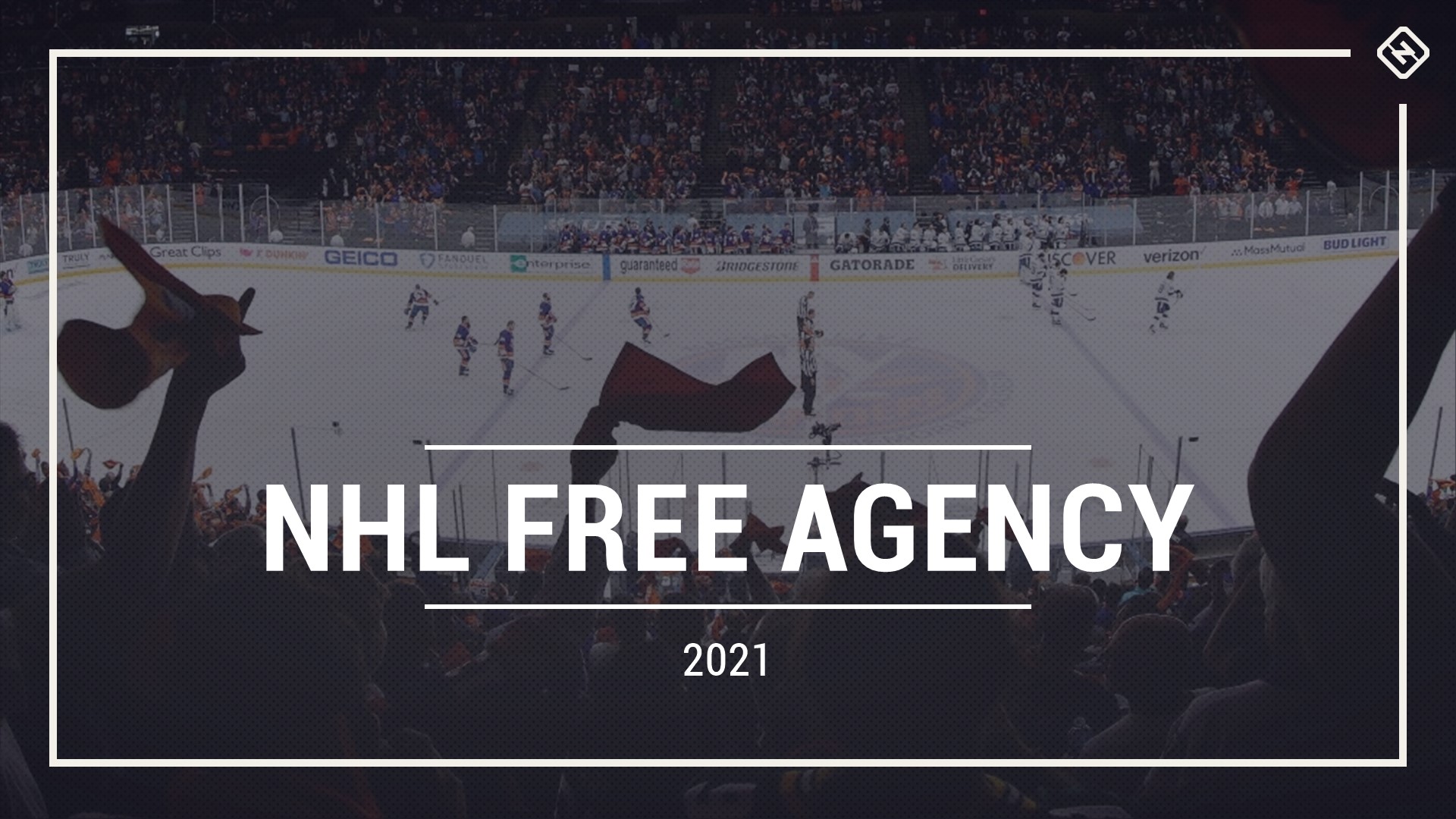 The motto for the 2021 Olympics is "Faster, Higher, Stronger, Together." It could probably be the motto for the 2021 NHL offseason too.
All 32 franchises are assuredly wanting to get faster, make their lineup stronger and go higher in the standings. A few are even doing it together. Already a few "I'll scratch your back, if you scratch my back" deals have gone down. Basically, a "Hey, pal, you take this bad, cap-heavy contract and we'll give you a bunch of guys and picks. Thanks, buddy."
MORE:  All 31 teams' UFA, RFA players | News, trade grades from 2021 draft
As the floodgates officially open and pen is finally put to paper (or e-signatures are acquired), Stock Market Pioneer will have complete coverage of the latest NHL trades, signing rumors and news.
NHL free agency tracker
(All times Eastern)
Wednesday, July 28
5:52 p.m. — Bruins announce a slew of signings. Here are the more notable ones.
G Linus Ullmark for four years, $5 million AAV
F Nick Foligno for two years, $3.8 million AAV
F Erik Haula for two years, $2.375 million AAV
F Tomas Nosek for two years, $1.75 million AAV
D Mike Reilly resigns for three years, $3 million AAV
D Derek Forbort for three years, $3 million AAV
5:51 p.m. — Hurricanes GM Don Waddell spoke to the media and addressed the signing of Tony DeAngelo.
5:12 p.m. — OFFICIAL: Pius Suter has signed with the Red Wings for two years.
5:01 p.m. — Canadiens have added Mike Hoffman.
5 p.m. — Flames sign Trevor Lewis, a Sutter guy, from his LA Kings days.
4:57 p.m. — Bruins get their new backup, er, No. 1? Rask is still (technically) unsigned.
3:54 p.m. — Leafs gave up a lot for a rental player.
3:46 p.m. — Well, it's been a while since we've had some Jack Eichel chitchat.
3:35 p.m. — Not a UFA or RFA signing but Brayden Point signs an extension with the Lightning.  A good chunk of change but, fair to say, worth every penny.
3:35 p.m. — OFFICIAL: Jaroslav Halak is going to the Canucks for one year.
SN's analysis: He'll be a nice complement to Thatcher Demko in between the pipes. The move should give Michael DiPietro a chance to grow in Abbotsford (AHL) too.
3:35 p.m. — OFFICIAL: Zach Hyman is heading to Edmonton for seven years, $5.5 million AAV.
SN's analysis: Fantastic signing for the Oilers. They get a guy who will create space for the likes of McDavid and Draisaitl, be a net-front presence, kill penalties, is one of the hardest working guys in the game and one of the best too. This is the player Connor has been needing for. along time. Great addition.
3:11 p.m. — OFFICIAL: Canucks keep Travis Hamonic and Brandon Sutter in the mix while former Canuck, and now former Flames forward Josh Leivo heads to the Hurricanes.
3:09 p.m. — Leafs add some sandpaper and an all-around good dude in Gabriel.
2:50 p.m. — OFFICIAL: Hurricanes have signed Tony DeAngelo to a one-year deal for $1 million.
"Tony is a smooth-skating, puck-moving defenseman," said GM Don Waddell in the team's press release. "We've done a lot of background work on this player and we are confident that he can be a positive addition to our group."
2:48 p.m. — OFFICIAL: Blue Jackets add local kid Sean Kuraly to a four-year deal.
2:41 p.m. — OFFICIAL: Petr Mrázek is a Maple Leaf. Signs a three-year deal with an AAV of $3.8 million.
2:39 p.m — OFFICIAL: After a one-year show-me deal, Tyson Barrie is sticking around Edmonton for three years, $4.5 million AAV.
SN's analysis: Barrie had a solid year in Edmonton and finished the 2021 season as the league's points leader among defensemen with 48 points in 56 games.
2:35 p.m. — Reports are swirling that long-time Canucks blueliner Alex Edler is heading to sunny California and the Kings.
2:29 p.m. — OFFICIAL: Kraken add Jaden Schwartz, Alexander Wennberg and 2021 Vezina Trophy finalist Philipp Grubauer.
SN's analysis: Kraken needed some help down the middle and get that in Wennberg. They also got the top goalie on the open market (with the expectation that Rask is staying in Boston) in Grubauer. It's a great move as Driedger has never carried the load full-time; however, it's also an interesting one because they just threw a lot of money at Driedger too.
2:19 p.m. — OFFICIAL: Nick Bonino is headed to Sharks for two years as is goaltender James Reimer.
2:13 p.m. — OFFICIAL: Lightning upgrade their goaltending and sign Brian Elliott for one year to backup Andrei Vasilevskiy.
2:11 p.m. — Jaden Schwartz is about to get Kraken in Seattle.
2:03 p.m. — OFFICIAL: One of the biggest UFAs heads to the West Coast. Kings sign Phillip Danault to a six-year deal with an AAV of $5.5 million.
SN's analysis: The Kings were looking for some help down the middle and got one of the best two-way, defensive centers in the game.
1:58 p.m. — Sportsnet's Elliotte Friedman reporting six years, $5.9 million per. Also notes that the Capitals may have interest in re-acquiring Vitek Vanecek.
1:53 p.m. — OFFICIAL: Michael Del Zotto heading to the Senators.
1:49 p.m. — OFFICIAL: Blackhawks add Jujhar Khaira for two years ($975,000 salary cap hit).
SN's analysis: Quality bottom-six guy. He'll bring some bite to the lineup.
1:46 p.m. — Interesting considering they just threw a ton of money at Chris Driedger.
1:20 p.m. — Yeah, the money being thrown around today is pretty wild.
1:11 p.m. — OFFICIAL: Devils sign goaltender Jonathan Bernier to a two-year deal with an AAV of $4.65 million.
1:05 p.m. — Vegas sends Nick Holden and a 2022 third-rounder to the Senators for Evgenii Dadonov.
1:03 p.m. — OFFICIAL: David Savard to Montreal for four years.
1:01 p.m. — Not a bad backup for Mackenzie Blackwood
12:58 p.m. — Keith Yandle is officially a Flyer for one year, $900,000. Looks like he'll break Doug Jarvis' all-time iron-man record in the City of Brotherly Love. He needs just 43 games.
12:56 p.m. — Wild sign Alex Goligoski for one year, $5 million.
SN's analysis: Quite a haul for the defenseman.
12:54 p.m. — Stars also add Luke Glendening, Alex Petrovic and Andreas Borgman.
12:31 p.m. — OFFICIAL: Braden Holtby to the Stars for one year, $2 million and Patrick Nemeth to the Rangers for three years.
SN's analysis: Makes you wonder what is going on with Ben Bishop.
12:29 p.m. — Reports circulating that Cedric Paquette is heading to Montreal and Martin Jones to the Flyers.
12:27 p.m. — A little bit of a surprise, as the thought was Forbort was headed to Seattle to play under his North Dakota coach Dave Hakstol. He'll replace Lauzon on the blue line who did head to the Kraken.
12:22 p.m. — Stanley Cup champ David Savard reportedly heading to Montreal for four years, $3.4 million AAV.
12:19 p.m. — Zach Bogosian reportedly heading back to the Lightning, per Darren Dreger.
12:14 p.m. — The Fourth Period's David Pagnotta reporting on NHL Network that the Stars have also added Braden Holtby.
12:09 p.m. — Quick rumor roundup
Friedman reporting Martin Jones to the Flyers.
The Athletic's Michael Russo reporting Alex Goligoski to the Wild for one year, $5 million with a full no-trade clause.
Seravalli reporting Tucker Poolman is heading west to the Canucks.
12:07 p.m. — OFFICIAL: Ryan Suter four-year, $14.6 million contract (AAV $3.65M) with the Stars.
12:01 p.m. — Per Sportsnet's Chris Johnston: Coleman getting 6x$4.9M.
SN's analysis: Good veteran defenseman to add to the mix after losing Oleksiak to the Kraken. Suter unites with USA Hockey teammate Joe Pavelski
Noon — It has begun.
11:53 a.m. — LeBrun reporting Blake Coleman is heading to Calgary. Big splash by GM Brad Treliving.
11:36 a.m. — The Devils are no longer a basement-dwelling team.
11:23 a.m. — Ethan Bear is reportedly on the move to the Hurricanes for Warren Foegele. Bear is a really solid, young defenseman.
11:02 a.m. — Flames acquired defenseman Nikita Zadorov from the Blackhawks for a third-rounder in 2022. He is an RFA.
SN analysis: Good addition but doesn't fill the large hole left by Mark Giordano's departure for the Pacific Northwest. Plus, Flames need a lot more pieces to be a competitive club.
10:56 a.m. — Sam Gagner re-signs with the Red Wings.
10:46 a.m. — Bottom-six guys getting paid. What a world.
10:42 a.m. — Maple Leafs moving on from Frederik Andersen, who LeBrun is reporting is heading to the Hurricanes.
10:09 a.m. — As expected, Zach Hyman is headed to the Oilers.
10 a.m. — Two hours before free agency opens. Here's a look at the morning's latest rumors:
Tuesday, July 27
11:51 p.m. — It was touch-and-go there for a bit but the Avalanche's captain is returning to Denver.
10:30 p.m. — Brent Seabrook is basically retired. The defenseman's contract now heads to Tampa Bay and will likely be placed on LTIR.
SN's analysis: Tampa Bay GM Julien BriseBois once again works magic. Don't hate the player, hate the game.
8:15 p.m. — Earlier in the day, the Canadiens re-upped Joel Armia for four years and an AAV of $3.4 million.
8:07 p.m. — Nate Schmidt heads to the 'Peg. The Jets' defense, which needed a huge upgrade, now has Schmidt. DeMelo, Dillon, Stanley, Pionk, Morrissey and Heinola. Not too shabby.
7:04 p.m. — Suter heading south?
7 p.m. — Sounds like the Jets have landed their guy.
6:48 p.m. — Reilly sticking around Beantown.
5:07 p.m. — Patrik Laine re-signs with Columbus.
4:55 p.m. — TSN's Pierre LeBrun also reporting Montreal, Dallas and Boston as possible destinations for the longtime Ducks captain.
4:43 p.m. — The king is (almost) ready to reclaim his throne.
3:18 p.m. —  Gabriel Landeskog may be heading elsewhere.
2:27 p.m. —  DeAngelo was recently bought out by the Rangers.
SN's analysis: Why? Between this and the reports that they are interested in Virtanen — what are the Hurricanes doing?
MORE: 'He has played his last game' with Rangers
2:24 p.m. — Are Phil Kessel's days in the desert coming to a close?
2:21 p.m. — Darnell Nurse had a monster year with the Oilers in 2021 and established himself as a top defenseman in the NHL.
SN'S analysis: Nurse deserves a big payday after a solid 2021 campaign where he skated an average of 25:38 a night (fourth highest in the league).
2:13 p.m. — Halak would be a good backup or 1A/1B for Thatcher Demko.
1:17 p.m. — Keith Yandle became a UFA after he was bought out by the Panthers.
SN's analysis: The defenseman played 103 games with Flyers head coach Alain Vigneault as a member of the Rangers from 2014 to 2016. It's a deal that makes sense for both parties as the Flyers continue to revamp their defense.
1:15 p.m. —  The Marc-Andre Fleury tenure is officially over in Vegas.
FLEURY TRADE GRADES: Blackhawks get reigning Vezina Trophy winner, Golden Knights get cap space
1:07 p.m. — As expected "The Great 8" is sticking around the DMV.
SN's analysis: Never in doubt. He should break the NHL's all-time goals record under this contract.
1:06 p.m. — Chaos is going to reign supreme.
1 p.m. — Pavel Buchnevich, acquired by the Blues from the Rangers, signs a four-year, $23.2 million extension.
SN's analysis: Buchnevich is coming off a breakout year in which he scored 48 points in 54 games. He deserved to get paid.
12:23 p.m. —  Canucks have signed Conor Garland, recently acquired from Arizona, for five years at a cap hit of $4.95 million.
SN's analysis: Garland locked up for a couple of years helps solidify the Canucks top-6.
12:14 p.m. —  Canucks bought out Virtanen after he was placed on leave May 1. He has been accused of sexually assaulting a woman four years ago.
12:01 p.m. — A couple of big names have been placed on waivers for the purpose of a buyout: Oilers' James Neal, Sharks' Martin Jones and Canucks' Braden Holtby.
11:31 a.m. —  Not even noon. Coffee not even acquired. Massive news drops.