Notre Dame defensive coordinator Marcus Freeman's affinity for pre-snap motion and movement is a bit of a paradox.
On the surface, his players bouncing around without much rhythm or rhyme might seem random and chaotic in an attempt to throw off the opposing offense. In reality, there is much more to it than that.
"It's a little bit more structured than maybe they understand," Freeman said. "What I'm trying to do is give those guys freedom within the entire defense to play fast."
Watch our videos and subscribe to our YouTube channel!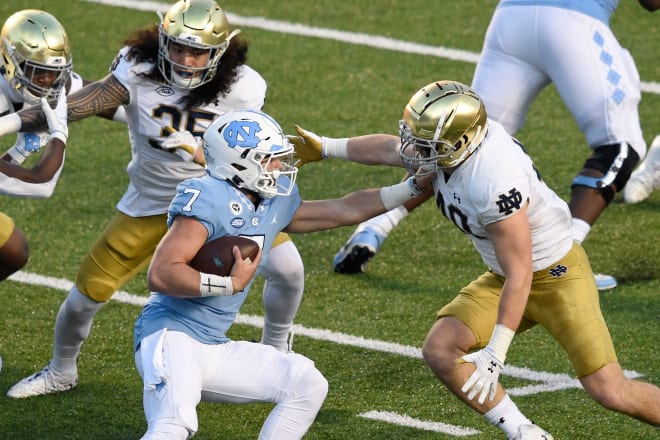 Those are two key elements of Freeman's defensive mantra; free and fast. The idea behind more pre-snap action than most defenses would employ is that it lends itself to a greater chance of checking both boxes.
Freeman doesn't want his players to feel static and cold going into a play. He'd rather them have a feel for what's going to happen by moving around and anticipating.
"'Coach, do I have to be in this exact alignment with my hands like this?' No. You just have to know where you have to get to before the ball is snapped," Freeman said. "You have to know, can I accomplish my job from where I'm aligned when the ball is snapped?"
It's also an avenue for Irish players to become far less reliant on Freeman and the rest of the staff. If a player can show disguises and bluffs on any given play but still get to where he needs to be by the time the ball is snapped and ultimately make the play, then Freeman has done his job.
As the cliche goes, he has put his player in a position to be successful.
"I think it creates ownership, right?" Freeman said. "We can go through a walk-through and I can ask, 'What do you guys want to do with this?' Here's our toolbox, what do you want to do with it? And let them make a decision.

"In a game, it's never going to be exactly how you see it on film. So if you give those guys ownership now in practice, in a game they can see a formation and say, 'Coach, I know what I need to do. I'm going to make a call.' And as long as you can be confident and make a call, we'll be fine."
The toolbox analogy is one Freeman likes to use often. He's like a father teaching his sons how to use a wrench or different types of screwdrivers for the first time. Once they get the hang of it, they don't need to ask dad how anymore.
That's another cliche in football; a coach being like a second father for some student-athletes. In this case, it couldn't be much more accurate. Freeman can show them the ropes and educate them on what to do in certain situations, but he's not always going to be there to hold their hand.
He can't baby them prior to every play and force-feed them every defensive call.
"I purposely at times don't tell them," Freeman said. "Figure it out. Here's our toolbox. You have all these tools. What tool do you want to use here? What tool is going to be best? Then after practice we'll talk about, 'Hey, if I was in that situation here's what I would have probably done.' They're out there. I'm not playing. I'm on the sideline."
—-
• Talk about it inside The Lou Somogyi Board.
• Learn more about our print and digital publication, Blue & Gold Illustrated.
• Watch our videos and subscribe to our YouTube channel.
• Sign up for Blue & Gold's news alerts and daily newsletter.
• Subscribe to our podcast on Apple Podcasts.
• Follow us on Twitter: @BGINews, @Rivals_Singer, @PatrickEngel_, @tbhorka and @ToddBurlage.
• Like us on Facebook.